For many, fall is the preferred season, and there are many reasons why. With its pleasant weather and lush foliage bursting with warm colours, it's a beautiful time to spend outdoors and take in all the striking landscapes that Ontario has to offer.
Whether you're an avid hiker or just looking for an exciting new places to take a stroll with loved ones, Ontario has a hiking destination for you.
Read on to learn about eight well-loved spots to add to your fall bucket list—all that's left to do is pack some snacks and prepare for a road trip that promises a feast for the eyes.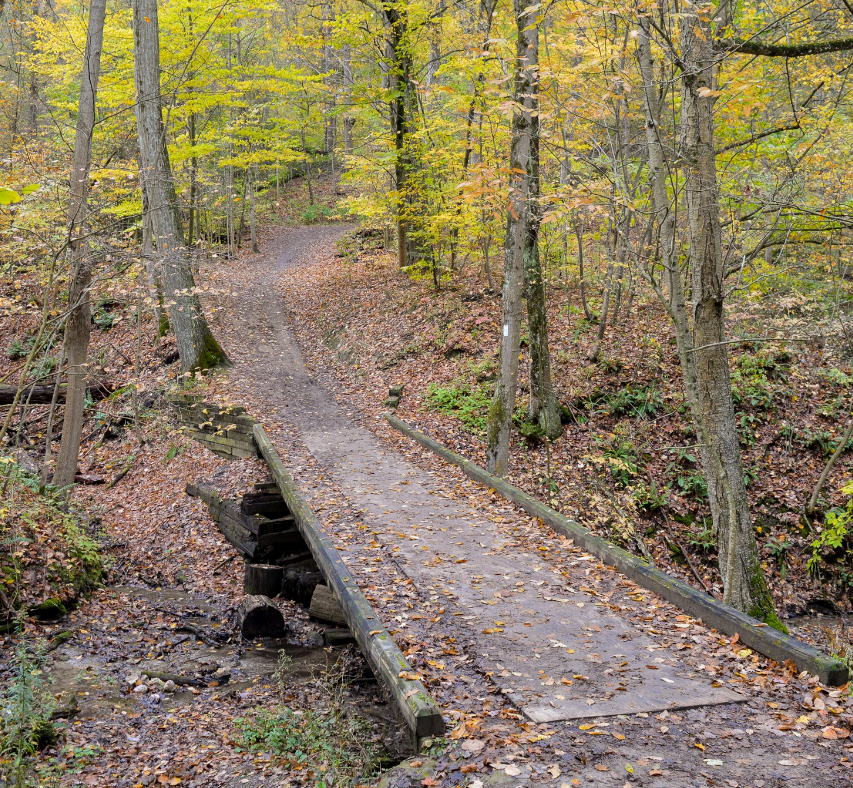 Located on the Bruce Peninsula, this rugged but serene national park is a gem of a spot filled with natural wonders. The Bruce Trail, which stretches nearly 900 kilometres, offers hikers breathtaking views of Georgian Bay and Lake Huron. Pack your binoculars; the park is home to rare orchids, plenty of bird life, reptiles, white-tail deer, plants, and wildflowers.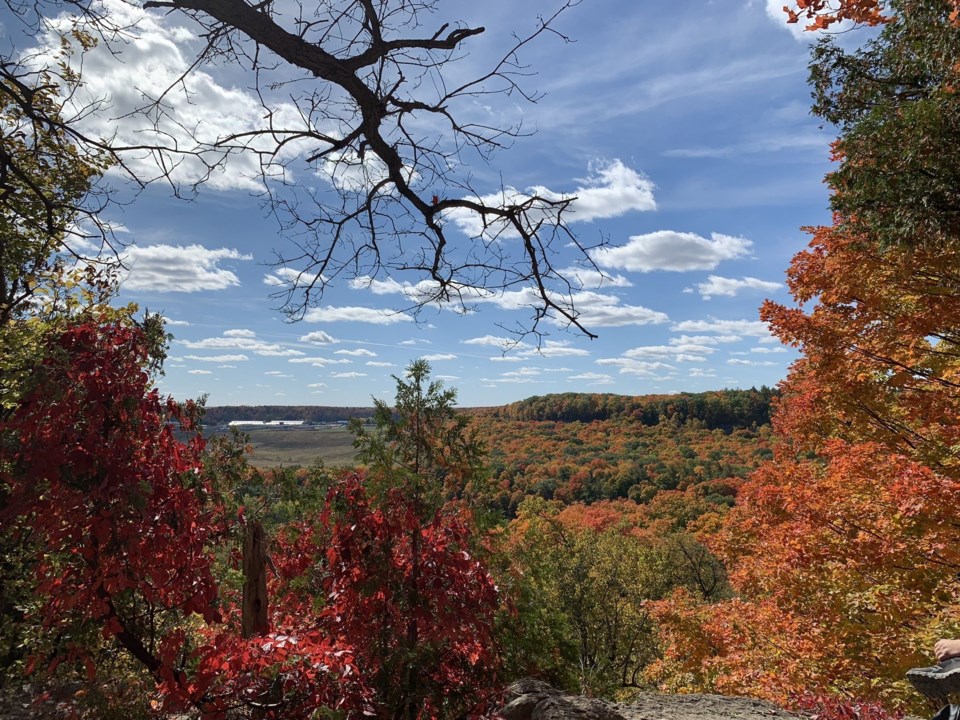 If you're after some epic leaf-peeping this fall, Rattlesnake Point Conservation Area in the Halton Region is the spot to visit with panoramic views of limestone cliffs and colourful scenic trails that will leave you slack-jawed. Fall transforms this conservation area into an actual work of art, as the leaves burst into red, orange, and gold hues. Ophidiophobes (those with a phobia of snakes) take heart. Despite the name, you're more likely to spot garter snakes than rattlesnakes here.
The Scarborough Bluffs, lining the shores of Lake Ontario just outside of Toronto, are a must-see in the fall. Take a hike in Bluffer's Park and witness the towering cliffs that seem straight out of a movie. Fun Fact: The bluffs have been the setting and backdrop for numerous films and TV shows, including Star Trek, Orphan Black, and Degrassi.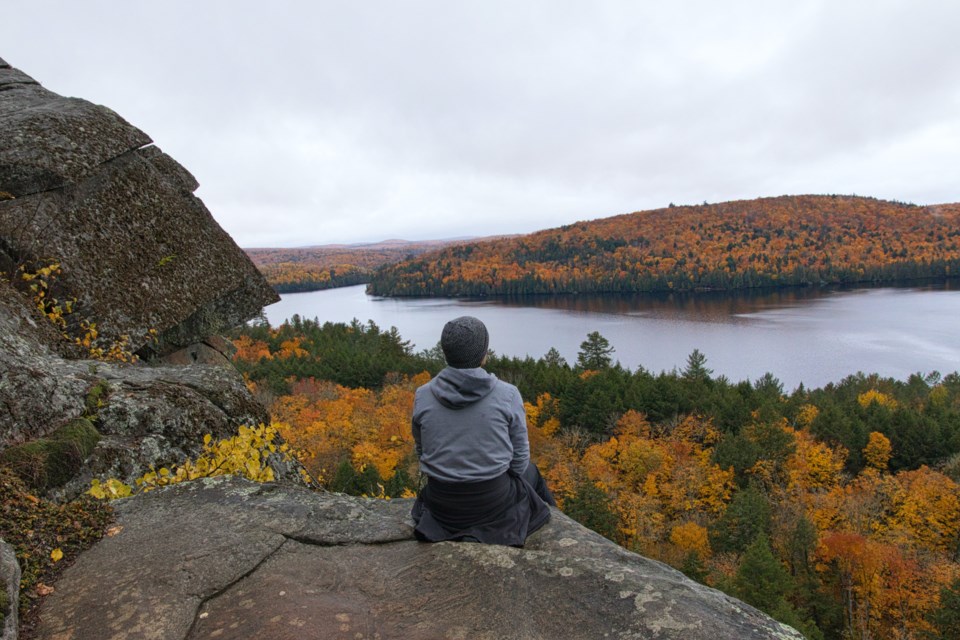 Algonquin Provincial Park is a popular destination for nature lovers, especially in autumn. Its extensive wilderness, sparkling lakes, and diverse wildlife—including moose, foxes, deer and turtles—make it an extra unique location for all your fall adventures. It's also Ontario's oldest provincial park and was established in 1893.
Although technically in Quebec, Gatineau Park is just a short drive from Ottawa and has plenty to offer, from hiking trails, lookouts, and no shortage of fall foliage. It's a must-visit destination. Fun fact: the park is home to the Mackenzie King Estate, where you can explore the former prime minister's picturesque gardens. After a day of hiking and adventure, unwind with a spa treatment at the nearby Spa Nordik.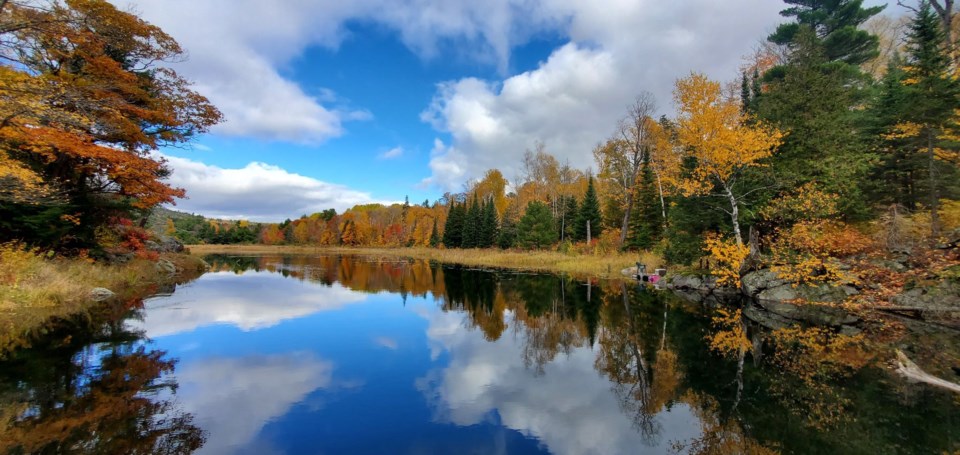 If The Group of Seven, a famous collective of Canadian artists, found inspiration in Killarney Provincial Park's striking beauty for many of their paintings, it's a park to prioritize this fall. Located in Georgian Bay, Killarney is well known for its pink granite cliffs and crystal-clear lakes. Hikers flock to its famous La Cloche Silhouette Trail for a challenging yet rewarding course with an unforgettable view.
Plan a stroll through the breathtaking Mono Cliffs Provincial Park—a hidden gem that packs in rugged terrain, lush forests, and a wide array of lakes, ponds and rivers. The Cliff-Top Side Trail rewards hikers with sweeping views of the surrounding countryside, a must-see in the fall. The park's thriving and extensive ecosystems include a wide range of plant and animal species—including fungi, porcupines and rare birds— making it a hotspot for nature enthusiasts.
Muskoka becomes a fall paradise when the leaves change, and for adventurers looking for a little more action than simply strolling through nature, the surrounding towns offer a little more to do and explore—and a wide selection of places to enjoy a meal. The Crossroads Restaurant is a popular eatery in 2023 and Henrietta's Pine Bakery is worth a stop for baked goods of all kinds.
Before you hit the road for your fall adventure, be sure to do a quick check online for potential closures and trail conditions of your chosen park or conservation area and dress in layers for the sometimes unpredictable fall weather. Happy hiking!