Over the weekend, the Commonwealth and fans of the Royal family celebrated the history-making coronation of King Charles III.
Although King Charles acceded to the throne upon the death of Queen Elizabeth II on September 8, 2022, the proceedings are a chance for Canadians to mark the special occasion. The coronation marked the first formal investiture of a new monarch in seven decades, since Queen Elizabeth II's ceremony in 1953.
The Crowning of #KingCharlesIII.#Coronation #KingCharlesIIICoronation https://t.co/WpOGq0CYtw

— The Crown in Canada (@TheCrownCa) May 6, 2023
As a constitutional monarchy, Canada has proclaimed King Charles the head of state, and in honour of His Majesty's coronation, a new Royal Crown, Royal Flag, Canadian stamp, and collector coins have been announced.
Canada Post unveiled the new definitive stamp with an image of King Charles III to mark the coronation, continuing the 170 years of tradition of issuing stamps featuring Canadian monarchs. The new stamp features a portrait of the then-Prince of Wales, taken by photographer Alan Shawcross.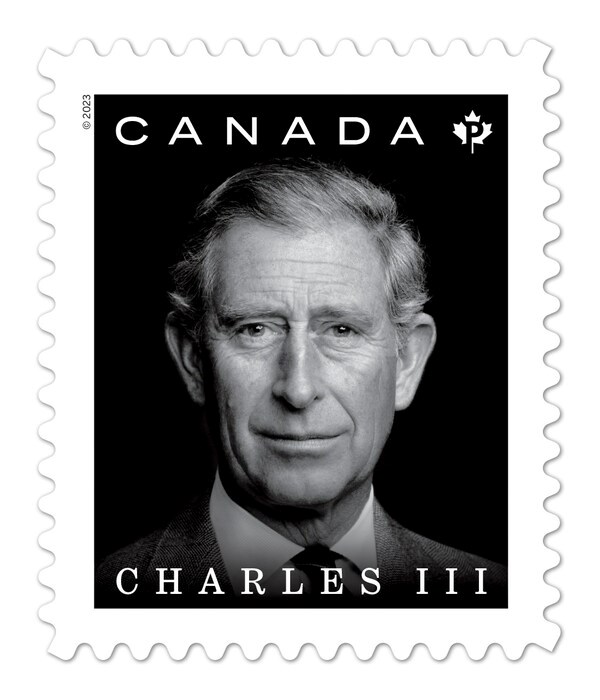 Special collector coins will also be released from the Royal Canadian Mint in celebration of His Majesty's Coronation, which features His Majesty's Royal Cypher as the symbol to commemorate this historic moment. The collector commemorative pure gold and silver coins retail for between $34.95 and $4,199.95 and are only available while supplies last given the limited mintage.
A new chapter in Canadian history. 🇨🇦👑
Today, we mark #KingCharlesIIICoronation.

In celebration of this momentous event, the @CanadianMint introduces the first Canadian coins to feature The King's #RoyalCypher. pic.twitter.com/QaoZwSWOSS

— The Crown in Canada (@TheCrownCa) May 6, 2023
A new Canadian Royal Crown was also announced, and incorporates uniquely Canadian elements including stylized maple leaves and a wavy blue line representing the country's lands and waterways. The design also includes a nod to Indigenous teachings about the importance and connection to water and to the land. The Crown was created by the Canadian Heraldic Authority as a symbol of the Canadian monarchy and was approved by His Majesty the King.
Today, the Canadian Government unveiled a new heraldic Canadian Crown replacing the traditional St. Edward's Crown used on Canada's coat of arms, police & military badges.

The design replaces religious symbols (crosses & fleur-de-lis) with maple leaves & a snowflake. #cdnpoli pic.twitter.com/lw04dC0zOZ

— Canadian Crown 🇨🇦 (@Canadian_Crown) May 6, 2023
The new flag of the Sovereign was also approved by King Charles III. It is a rectangular representation of the shield of the coat of arms of Canada, featuring maple leaves and royal emblems of the United Kingdom and France. The flag emphasizes that the Royal Arms of Canada are also the arms of the monarch of Canada and will serve for all future sovereigns. The flag was created by the Canadian Heraldic Authority.
In addition to the weekend events, celebrations took place throughout Canada and around the world.
Princess Charlotte and Prince George dancing along to Lionel Ritchie!#CoronationConcert pic.twitter.com/43EhKWyJOD

— Belle (@RoyallyBelle_) May 7, 2023
We have a very special greeting from across the pond!

It's 𝐊𝐢𝐧𝐠 𝐂𝐡𝐚𝐫𝐥𝐞𝐬 𝐈𝐈𝐈 with @katyperry & @LionelRichie! 👑#Coronation x #IDOL pic.twitter.com/MUJJ5MVVz3

— American Idol (@AmericanIdol) May 8, 2023
From the illumination of the #PeaceTower to performances by Florence K and the Ottawa Youth Choir, and many more Canadian celebrations around the world, #KingCharlesIIICoronation was a historic moment.

Tell us what your favourite part was! 🇨🇦👑#Coronation
📸#1: @SenateCA pic.twitter.com/D5txwlk1re

— The Crown in Canada (@TheCrownCa) May 7, 2023
As the Coronation weekend draws to a close, my wife and I just wanted to share our most sincere and heartfelt thanks to all those who have helped to make this such a special occasion.

We pay particular tribute to the countless people who have given their time and dedication to… pic.twitter.com/WIMsgL1ex2

— The Royal Family (@RoyalFamily) May 8, 2023