If you're in search of a new rental in Canada, you should be prepared to pay premium prices, as rents continue to rise at a remarkable pace.
According to the latest national rent report from Zumper, which analyzed hundreds of thousands of listings last month to examine median rent prices across the 23 largest cities in the country, the national one and two-bedroom rents hit $1,870 and $2,337 last month, respectively, reflecting year-over-year spikes of over 15%.
Canada's top three most expensive markets - Vancouver, Toronto, and Burnaby - all reached record rent highs last month. These cities' year-over-year growth rates were either about in line with the national rate or significantly more.
Ontario is currently home to five of the nation's priciest cities to rent a one-bedroom, with monthly rents averaging at $2,500 per month in Toronto, followed by Kitchener ($1,900), Ottawa ($1,890), Oshawa ($1,800), and Hamilton ($1,750).
Notably, Vancouver has shattered its highest rent record for the fourth consecutive month in a row. Meanwhile, Kelowna climbed back into the top 10 markets, to be tied with Hamilton, with a 6.1% monthly growth rate.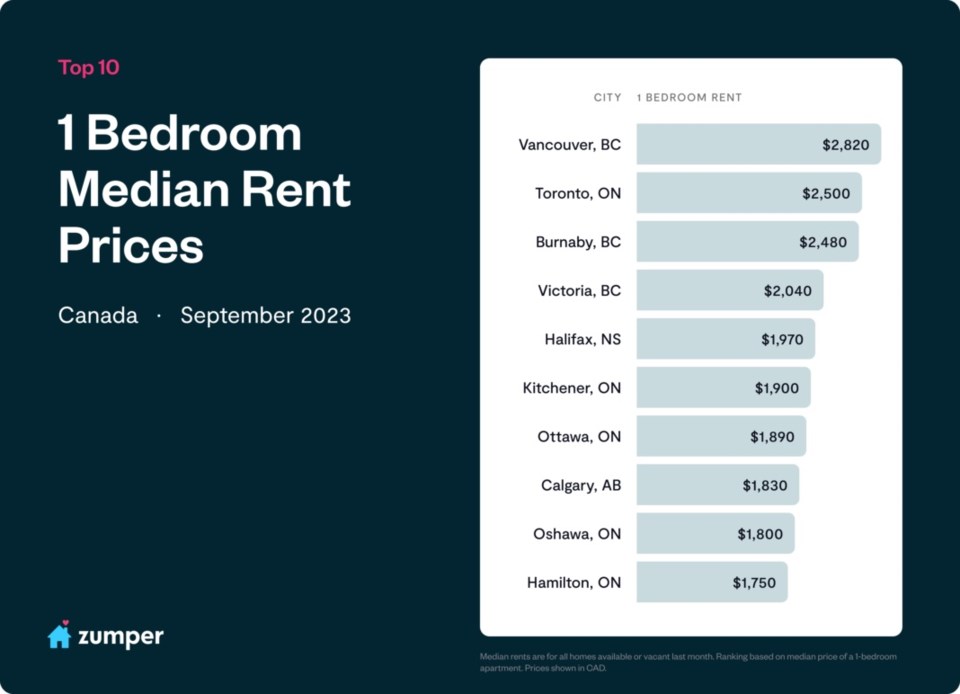 On a year-over-year basis, one and two-bedroom rents have jumped 15.6% and 16.3%, respectively. With remarkable population growth and high mortgage rates, the growing demand for rental housing in Canada is far outpacing available supply, putting significant upward pressure on rent prices. According to the report, until there is more housing built, rents will remain high and rise through the fall.
Top 5 Markets:
Vancouver, BC remains the most expensive city with one-bedroom rent increasing 0.7% from July to $2,820, reaching an all-time high for the fourth consecutive month in a row. Two-bedroom rent climbed 1.3% to $3,900.

Toronto, ON was the second priciest market and saw one-bedroom rent grow 4.2% to $2,500, which was an all-time high as well. Two-bedroom rent increased 2.5% to $3,270.

Burnaby, BC ranked third with one-bedroom rent moving up 3.8% to $2,480, while two-bedrooms climbed 3.2% to $3,200.

Victoria, BC continued to rank as the fourth most expensive market with one-bedroom rent increasing 1% to $2,040, while two-bedrooms grew 3% to $2,750.

Halifax, NS rounded out the top 5 markets with one and two-bedroom rents priced at $1,970 and $2,520, respectively.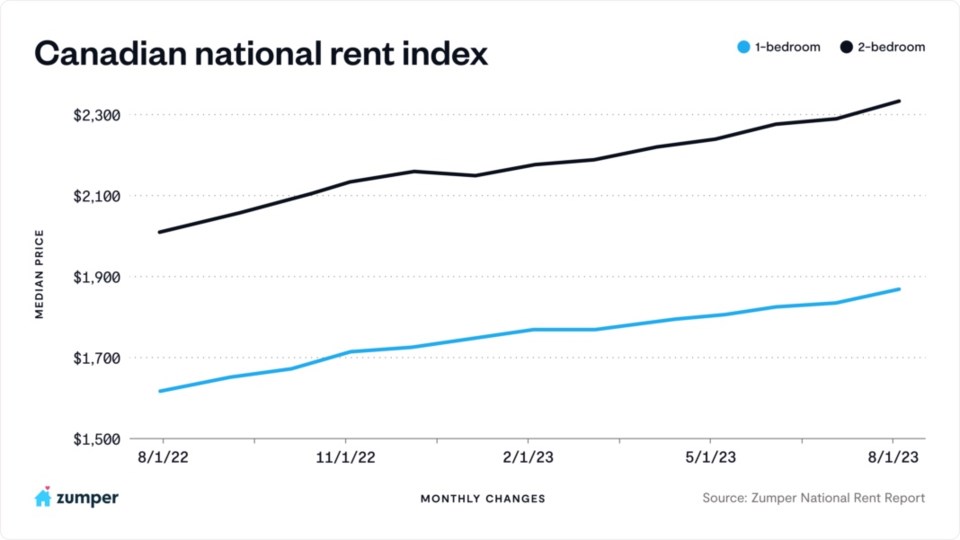 Cities with The Fastest Growing Year-Over-Year One-Bedroom Rent
Burnaby had the largest rent price growth rate, jumping 26.5% to $2,480 since this time last year. Toronto followed closely behind with rent spiking 26.3% to $2,500, while Calgary was third with rent catapulting up 26.2% to $1,830.
Cities with The Fastest Growing Monthly One-bedroom Rent
In terms of monthly one-bedroom rent growth, Kelowna, BC moved up three spots and into the top 10 markets with rent jumping 6.1% to $1,750. Kitchener, ON climbed one position to become the sixth most expensive market with rent growing 4.4% to $1,900. Toronto, ON saw rent climb 4.2% to $2,500.
You can read the full report here.