As mortgage affordability remains a prominent concern across Canada, the intricacies of housing costs are ever more pertinent.
While recent months have witnessed a slight dip in home prices, mortgage payments persist in their upward trajectory, a trend partially driven by the Bank of Canada's efforts to curb inflation and reach its 2% target.
The disparity between high-priced urban centres and more economical suburban locales is striking. To shed some light on Ontario's housing landscape, Zoocasa has compared average home prices across five of the most affordable and expensive cities in Ontario to reveal the contrasting mortgage payment scenarios homebuyers can anticipate in these regions.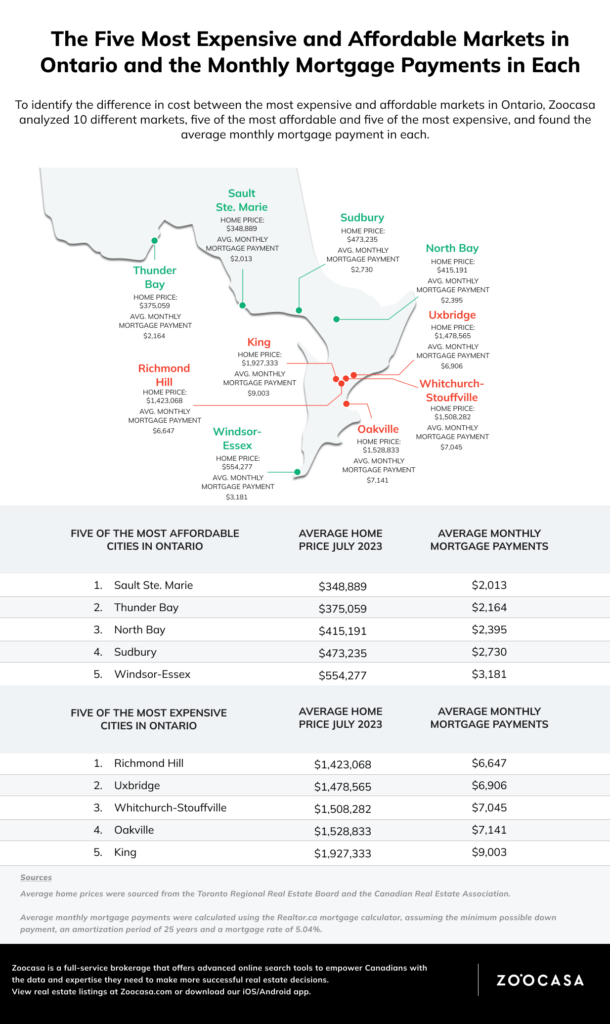 Stark Contrast: A $1,600,000 Margin between Affordable and Expensive Ontario Markets
The divergence between urban hubs in Toronto and the expansive Golden Horseshoe area and their outlying counterparts is remarkable.
King stands out as the pinnacle of luxury in Zoocasa's analysis, boasting an average home price of $1,927,333. In stark contrast, the most affordable city on the list, Sault Ste. Marie records an average price of $328,333. The chasm of nearly $1,600,000 between these two cities is reflected in their average monthly mortgage payments, with King residents shouldering around $9,003, which is nearly $7,000 more than their Sault Ste.
Marie counterparts. King's housing market is nearly $400,000 above the next priciest city on the roster, Oakville, with a low number of sales and mainly luxury properties selling in the area contributing to the extremely high average price, according to Zoocasa.
However, the divide persists even when comparing the least affordable of the five affordable cities and the least expensive of the most expensive cities. Windsor-Essex, ranking fifth among the most budget-friendly locales, showcases an average home price of $554,277. This is nearly $900,000 less than the average price of a home in Richmond Hill. That's a difference of nearly $3,500 on the monthly mortgage payments between the two.
Navigating the Spectrum: Affordable Gems Amidst Ontario's Housing Landscape
Amidst these divergent scenarios, pockets of affordability do exist throughout the province, dispelling some of the foreboding sentiments. According to data from the Canadian Real Estate Association, the nation's average home price was $668,249 in July.
Notably, all five of the most affordable cities fall beneath this benchmark. Sault Ste. Marie emerges as the beacon of affordability, where the average home is valued at $348,889, accompanied by a monthly mortgage payment of $2,013. In Thunder Bay, homeowners can explore options for under $400,000, as the average price rests at $375,059, carrying a monthly mortgage payment of $2,164.
From the lavish estates of King to the more budget-friendly abodes of Sault Ste. Marie, the province's housing portfolio showcases a wide spectrum of options for potential homebuyers.
By analyzing these cities' average home prices and associated monthly mortgage payments, you can gain insights into the varying financial commitments demanded by Ontario's diverse housing markets.