The Canadian housing market is facing significant challenges driven by a lack of supply and affordability, a fact well-known to Canadians nationwide.
As our population continues to grow, and inflation remains on the rise, the dream of homeownership persists because of its high-return investment potential.
In recent years, home prices have surged dramatically, outpacing the rate at which wages have increased. Over the past six months, the number of cities where individuals with median incomes can afford to buy a home has dwindled due to mounting pressure on home prices and the impact of rising interest rates.
This situation leads us to a critical question: Are there currently any listings that median income earners can realistically afford? To answer this question, Zoocasa conducted an in-depth analysis of median incomes in each Canadian province.
Zoocasa then calculated exactly what individuals earning the median income could afford and compared it to the most recent benchmark home prices in each province.
Challenges in Home Buying Across the Country:
Buying a home in any Canadian province today poses a formidable challenge. Across the board, the median income alone is insufficient to afford any home at the benchmark price.
However, there are still pockets of affordability in each province at the right price point. Newfoundland and Labrador, for instance, stand out as offering the most affordability, with a difference of just over $43,000 between what you can afford and the benchmark price. Those earning the median income can expect to afford a home priced at around $246,458, while the province's benchmark price sits at $289,800.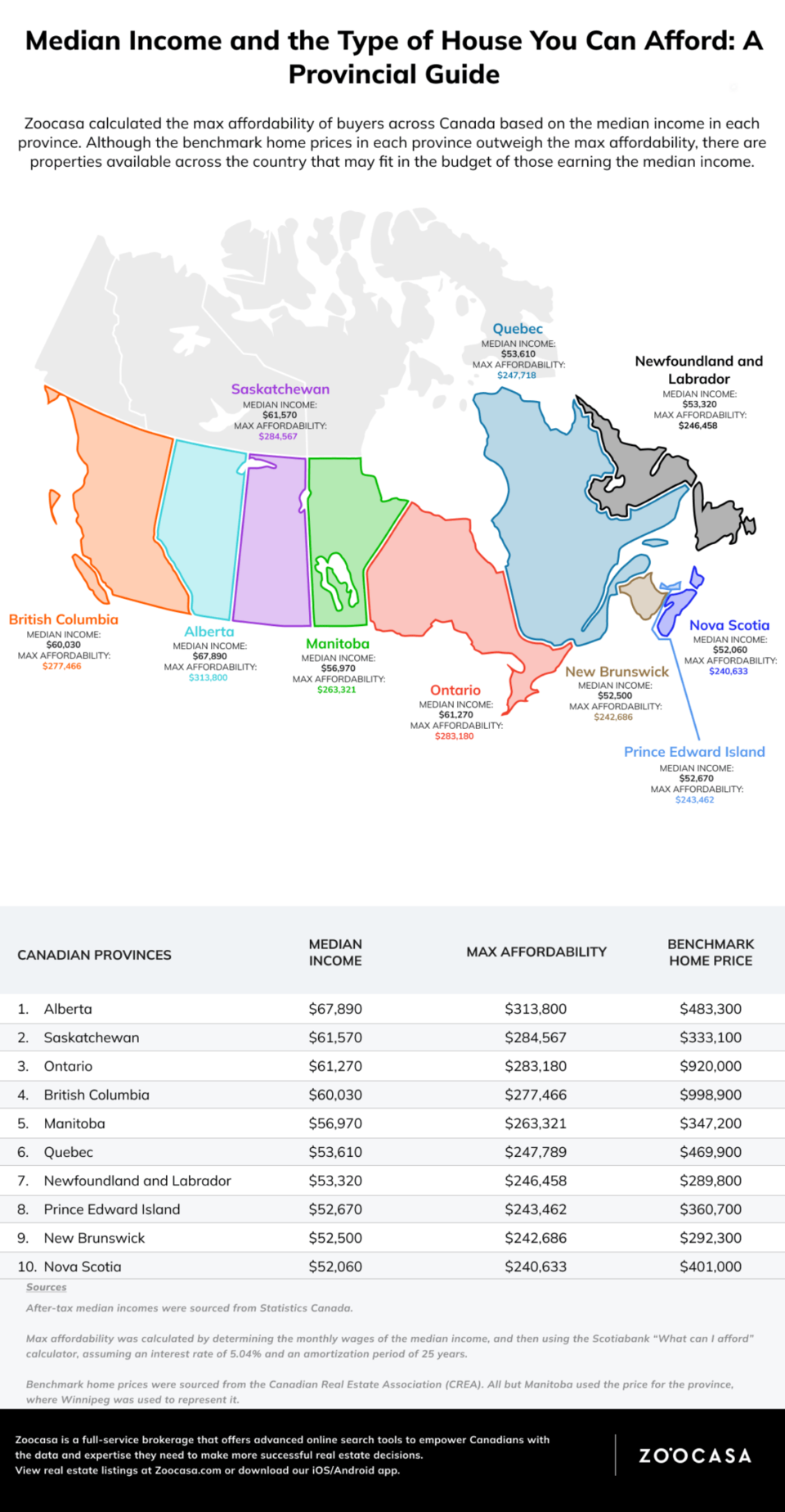 New Brunswick is the only other province with a benchmark home price under $300,000. Here, the difference between the benchmark price and the maximum affordability of $242,686 is just under $50,000.
Other provinces in the Prairies, such as Saskatchewan and Manitoba, also offer relatively affordable options. In Saskatchewan, the difference between maximum affordability and the benchmark price is approximately $45,500, while in Manitoba, it's just under $84,000.
In stark contrast, the most challenging provinces to buy homes in are Ontario and British Columbia. In Ontario, the combination of a slightly higher median income and a lower benchmark price means the difference between maximum affordability and the benchmark is slightly less than it is in BC, around $637,000.
In Ontario, a home costs $920,000, while the median income allows buyers to afford up to $283,180. In British Columbia, median income earners can anticipate finding a home within their price range at around $277,466, which falls nearly $722,000 short of the benchmark price of $998,900.
These findings, based on data provided by Zoocasa, shed light on the complex landscape of home affordability across Canadian provinces. While challenges abound, there are still opportunities for those with median incomes to secure a place to call home in different parts of the country.