After a long winter of being holed up indoors, most Ontarians are clawing at the walls to get outside and spend as much time walking, dining, exercising, and even shopping al fresco as much as possible.
With farmers' markets across Ontario gearing up for the busy seasons ahead, get excited about grabbing your tote bag and shopping fresh, local fare sold straight from the hands that grew it.
With so many markets popping up this time of year, why limit yourself to just one? The market season typically runs May through October which means you have months to try some of the most popular markets the province has to offer.
Here are the top 10 farmers' markets to visit in Ontario this spring and summer, along with what makes each one special. If you're planning an upcoming road trip or camping adventure, stopping by one of these destination markets is a great way to load up on fresh and healthy fare along the way.
Seasonal
Kingston Public Market, Kingston
The Kingston Public Market claims to be the oldest in Ontario—dating back to 1801—and based on the top 10 Ontario markets in this article, it very well may be. Located behind City Hall in Kingston's historic downtown, the market boasts everything from farm-fresh produce, florals, kombucha, trinkets, and a wide variety of meats, cheese, and freshly baked bread. Like most of the iconic markets on our list, live music can also be found at the expansive market
When: Tuesdays, Thursdays, and Saturdays 9 am to 6 pm | April to November
Ottawa Farmers' Market, Ottawa
Located at Lansdowne Park, the Ottawa Farmers' Market is a must-visit for anyone in and around Canada's capital. With over 75 vendors to peruse even before you arrive using the site's interactive vendor map, you can come prepared with a game plan or linger spontaneously at the seemingly endless stalls of fresh fare, cheeses, baked goods, honey, ciders, and artisanal products. Special events include face painting and gardening workshops.
When: Saturdays 9 am to 3 pm | May 27 to October 9
Port Credit Farmers' Market, Mississauga
Located at the scenic Port Credit lighthouse, The Port Credit Farmers' Market is a popular destination for locals and visitors alike. With over 50 vendors, it offers a wide variety of fresh produce, eggs, small-batch foods and beverages, and even live music!
When: Saturdays 8 am to 2 pm | June 3-October 7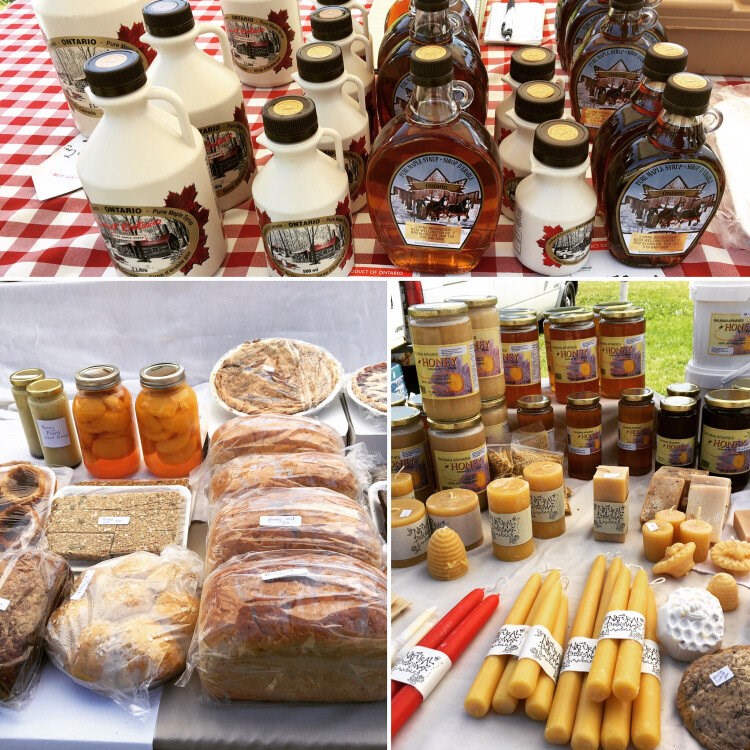 Elora Farmers' Market, Elora
The Elora Farmers' Market is a small but vibrant market located in the cute and quaint township of Elora. With booth after booth bursting with locally sourced and organic produce, stock up on farm-to-table fare and peruse the craft breweries, maple syrup, and self-care goods from the apothecary while you're there.
When: Saturdays 9 am to 1 pm | May 6 to October 7
Peterborough Farmers' Market, Peterborough
The Peterborough Farmers' Market is available year-round but truly comes alive each spring to fall when it moves outside and packs 100 vendors into its parking lot that peddle the freshest, local fare, deli and prepared foods, textiles, and handmade items to the sweet sounds of local musicians.
When: Saturdays 7 am to 1 pm | May 1 to October 31
Year-round
St. Lawrence Market, Toronto
Located in the heart of Toronto, the St. Lawrence Market has been a sprawling local landmark since 1803. With over 120 vendors, it offers a wide variety of fresh seafood, produce, meats, cheeses, and patriotic souvenirs—maple syrup and maple leaf paraphernalia, anyone? Don't miss Buster's Sea Cove for their decadent lobster rolls and the famous pea-meal bacon sandwiches at Carousel Bakery!
When: Saturdays 5 am to 3 pm
Kitchener Market, Kitchener
The Kitchener Market has been a staple in the community for over 150 years and while it's open year-round, in summer, vendors take over the outdoor parking lot, making it a popular attraction complete with live music and changing events all summer long. Check for weekly events using the site's calendar. With 80 vendors to choose from selling everything from locally sourced produce, meats, fresh bread, flowers, handcrafted jewellery, and more, it's the perfect one-stop shop. Be sure to check out the International Food Court for some delicious international cuisine.
When: Saturdays 7 am to 2 pm
Western Fair Farmers' and Artisans' Market, London
The Western Fair Farmers' and Artisans' Market is one of the oldest and largest markets in Ontario. With more than 90 vendors and two floors to shop your heart out, browse everything from fresh seafood, meats, and plant-based goods, artisan meats and cheeses, a sprawling section for one-of-a-kind gifts, and take in live music and local art while you do it. Be sure to save time to try some local craft beer at the Beer Garden.
When: Saturdays 8 am to 3 pm and Sundays 10 am to 2 pm
Hamilton Farmers' Market, Hamilton
A local landmark for an impressive 186 years, The Hamilton Farmers' Market has 50-plus vendors offering everything from peak-season fruits and vegetables, meats and seafood, wines, and fresh-cut flowers. During the summer months, the outdoor market on York Boulevard is a must-see.
When: Tuesday through Saturday 9 am to 4 pm
Stratford Farmers' Market, Stratford
Located in the heart of Stratford, the Stratford Farmers' Market is open once weekly year-round but between May and October, it expands outdoors and draws quite the crowd! Stock up on local seasonal produce, premium meats, baked treats, pre-made delicacies, and hand-made treasures. If Stratford is within day trip distance, it's the perfect place to stock up on local ingredients for a picnic in one of Stratford's picturesque parks.
When: Saturdays 7 am to 12 pm
These top 10 farmers' markets in Ontario are sure to delight and inspire you with their local produce, meats, cheeses, and handcrafted, one-of-a-kind goods.