Communities in eastern Ontario and southern Quebec were thrown into a state of emergency on Thursday afternoon as dangerous storm activity swept through the region, prompting widespread concern.
Various parts of Ontario and Quebec experienced hazardous weather conditions, with severe thunderstorms triggering tornado warnings specifically in eastern Ontario and southern Quebec.
A TORNADO WARNING is currently in effect in Ontario for:

- Ottawa North
- Kanata
- Orleans
- Ottawa South
- Richmond
- Metcalfe
- Prescott
- Russell

This is a dangerous and potentially life-threatening situation. Take cover immediately.#ONstorm #ONwx pic.twitter.com/ppeypJbcjD

— The Weather Network (@weathernetwork) July 13, 2023
The severity of the situation became apparent shortly before 1 pm, when warnings were issued for several areas in the Ottawa region, including Ottawa North, Ottawa South, Kanata, and Orleans. Meteorologists described the situation as "a dangerous and potentially life-threatening scenario," urging residents to take immediate precautions.
While The Weather Network had previously warned the public about overnight thunderstorms that could bring heavy rainfall, intense lightning, hail, and even tornadoes to southern Ontario, the actual extent of the damage and speed at which the storm escalated took many citizens by surprise.
As conditions worsened throughout the day, a tornado watch for the eastern provinces and portions of Quebec was upgraded to a warning. The turbulent and convective storm system played a significant role in the intensification of the weather event.
An NTP survey team will leave Western@London later this afternoon to investigate this damaging tornado in Ottawa today, as well as damage from any other tornadoes that may have occurred with this potent storm system.

Damage reports should be sent to ECCC if real-time, otherwise… https://t.co/x77puA3yY4

— Northern Tornadoes Project 🇨🇦 (@westernuNTP) July 13, 2023
Terrifying footage of a tornado touching down in Barrhaven, Ontario, located just a 25-minute drive south of Ottawa and a little over four hours from Toronto, began circulating on social media. The videos revealed the devastating power of the tornado as it whipped up debris, including shingles and other materials, with strong winds.
Centretown Ottawa just now. #ONStorm pic.twitter.com/OG1nJIm3ae

— Kevin Knapp (@knappkm) July 13, 2023
Tornado trying to form in barrhaven about 20 or so mins ago. Stay safe if you are in Barrhaven and Ottawa in general! @weathernetwork pic.twitter.com/v4TWecwg1S

— Shagtor (@TheShagtor) July 13, 2023
Tornado in Barrhaven #ONStorm #barrhaven pic.twitter.com/GJMJmJbqLH

— Jessica Cayer (@cayer_jessica) July 13, 2023
Tornado touchdown in Barrhaven pic.twitter.com/tr9ixZZbV0

— Lanlin (@lanlin_zhang) July 13, 2023
Ground zero of the #tornado #ONStorm pic.twitter.com/NqtF4HkHlB

— Tomislav Mitar (@EnjoyTheTom) July 13, 2023
Tornado in #Barrhaven #Ottawa, just behind Aura Ave. #ottnews #ottstorm pic.twitter.com/C0SZsJvWG4

— Arthur (@kurarturs) July 13, 2023
Tornado was ripping away roofs in #barrhaven #ottawa. Hope everyone is doing okay! pic.twitter.com/zLAtVQ21N6

— Aman (@AmanWhoScripts) July 13, 2023
Safe after the #tornado #barrhaven

Neighbours checking on neighbours pic.twitter.com/peanRtxSkJ

— Alison Kinahan she/her (@ak_yxe) July 13, 2023
Tornado in Barrhaven, just missed the first one with debris being sucked into it, this was the next one 🌪️@weathernetwork #ottawaweather #ONStorm #barrhaven pic.twitter.com/g6Hv1V26Ur

— Alison 🇨🇦 (@AlsonLandon) July 13, 2023
My house getting hit by a tornado wasn't in my plans for today. #onstorm #barrhaven pic.twitter.com/oDEekiYKic

— Theresa (@Theresa_English) July 13, 2023
In Barrhaven as of 1pm.#ONstorm pic.twitter.com/jYz6rYn6jj

— Rylee Noseworthy (@ryleenoseworthy) July 13, 2023
The authorities and emergency response teams are working diligently to assess the impact of the tornado and provide support to affected communities. It is crucial for residents to remain vigilant, follow official instructions, and prioritize their safety during this challenging time.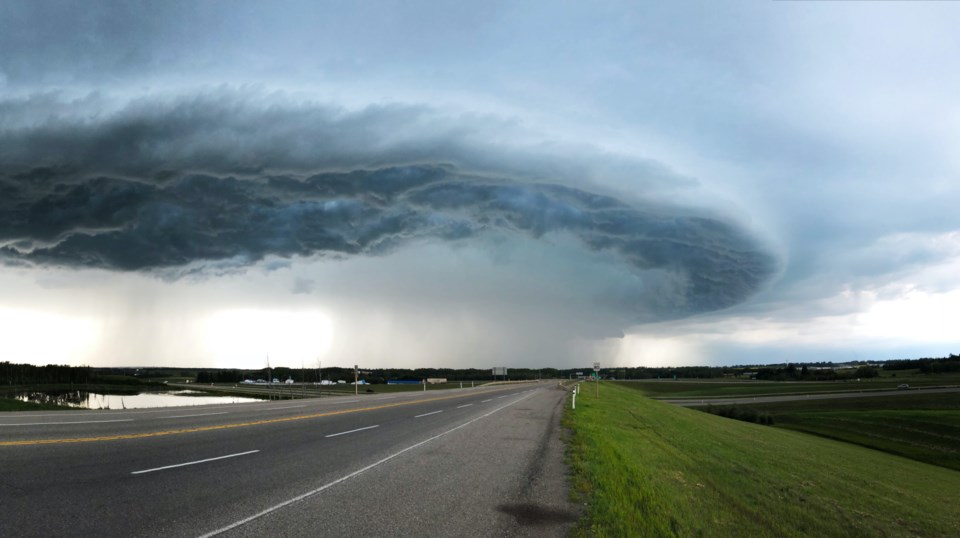 Tornado Safety
Ontario averages about 12 tornadoes a year, usually between May and September. From the extreme southwest of the province to the farthest northern tip, a tornado can strike anywhere.
Environment Canada issues warnings when tornadoes are imminent or already detected. The Ontario government assists in distributing these alerts to the public.
Hazard information
According to the Ontario Government, a tornado (or twister) is a powerful rotating column of wind that can hurt people and damage property. Very large thunderstorms can create many tornadoes. Tornadoes can appear after a heavy rain or hail in a sky that is green, yellow or black.
You can check local weather and forecasts for weather warnings online.
Safety tips
Be aware of weather conditions and warnings
Seek shelter immediately if a warning has been issued or you believe one could occur
If you're indoors:
The safest place to be is an underground shelter, basement or safe room.
If you don't have a basement, go to the centre of an interior room on the lowest level away from corners, windows, doors and outside walls - put as many walls as possible between you and the outside.
Get under a sturdy piece of furniture — use your arms to protect your head and neck.
Don't open windows.
If you're outdoors:
don't wait until you see the tornado to get inside
if you can't get inside, lie flat in a ditch or depression and cover your head with your hands
don't go under an overpass or bridge - you're safer in a low, flat area
If you're in a mobile home:
Go to the nearest sturdy building or shelter immediately. Mobile homes do not offer much protection from tornadoes.
If power outage results:
Prepare now
Have a safe room in your home where everyone gathers during a tornado — a basement, storm cellar or interior room on the lowest floor with no windows.
Conduct a tornado drill to make sure everyone knows where to go if a tornado is coming.
Remove dead or rotting trees and branches that could fall and cause injury or damage.