Unfortunately for many drivers in Ontario, the cost of car insurance has become a whole lot more expensive.
According to the latest findings from Toronto-based RATESDOTCA's Insuramap, a trusted resource for tracking the pulse of Ontario's insurance landscape, the average estimated auto insurance premium has surged by 12% compared to in 2021. According to the findings, the average estimated premium now stands at $1,744, marking the single most significant spike in the history of the Insuramap survey.
It has become abundantly clear that Ontario's insurance terrain is undergoing a seismic shift. The landscape has transformed since RATESDOTCA's last comprehensive assessment in December 2021 when the average estimated auto insurance premium nestled at a somewhat more palatable $1,555.
The world has since evolved, and so has the insurance game. With the easing of COVID-19 restrictions, Ontario's drivers have, for the most part, reclaimed their pre-pandemic routines. However, lurking beneath the surface are a multitude of factors propelling this escalation. Insurers are grappling with soaring inflation, perpetual vehicle and parts shortages, protracted wait times for repairs, a resurgence in car theft incidents, and an alarming surge in both the frequency and severity of claims filed.
In this article, we'll unpack the key findings of the RATESDOTCA Insuramap report, providing insights into why your auto insurance premium is climbing to new heights.
From the peaks of Brampton to the bustling streets of Toronto and beyond, we'll journey through the data to understand the shifting dynamics of Ontario's auto insurance landscape. As we traverse these insights, one thing becomes evident: auto insurance in Ontario is evolving, and the changes aren't always in favour of the everyday driver.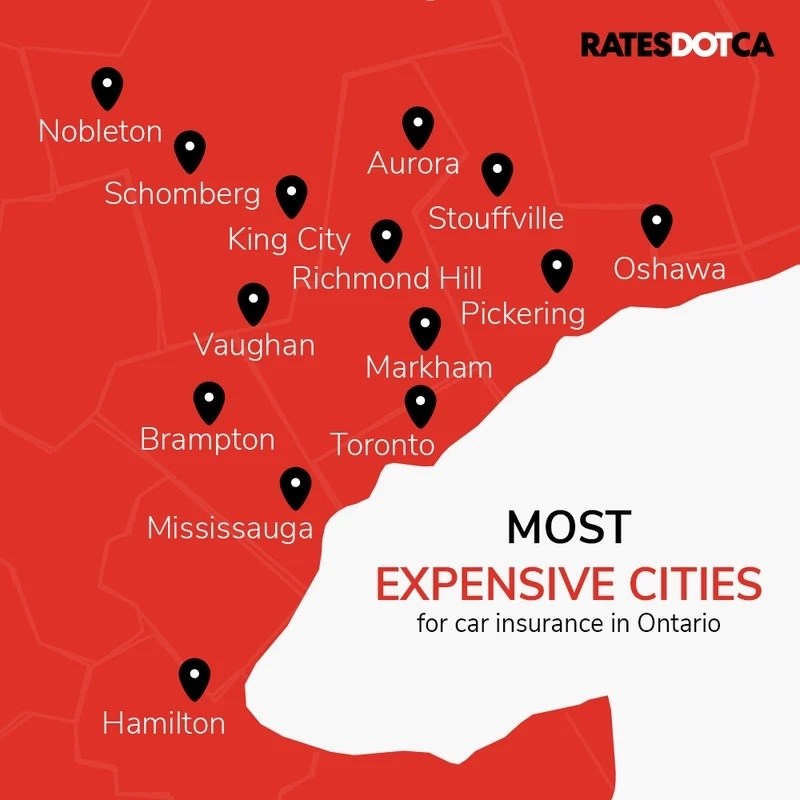 Key Trends Unveiled:
Brampton's Reckoning: Brampton, a city accustomed to the insurance limelight, has regained its throne as the province's costliest city for auto insurance. With an average estimated rate of $2,707 per year, Brampton witnessed a staggering 37% increase in premiums, catapulting it back to the pinnacle of Ontario's insurance hierarchy.
York Region's Dominance: York Region cities, such as Vaughan, which held the top spot in the previous survey, continue to be influential players in the auto insurance arena. Vaughan, with an annual premium averaging $2,158, may have slipped down the ranks, but its rates remain relatively stable, dropping by just 1% year-over-year.
Toronto and Mississauga Surging Ahead: The provincial capital, Toronto, and the ever-vibrant Mississauga have elbowed their way into the upper echelons, with average annual premiums of $2,325 and $2,311, respectively. This displaces Ajax and Richmond Hill from their former top-tier positions. Toronto, in particular, witnessed a substantial 19% increase in its average estimated rate, marking its maiden voyage into the upper ranks.
Hamilton's Resurgence: Hamilton, once relegated to the fringes of the top 10, has made an audacious comeback as the ninth most expensive city for insurance, with premiums now reaching $1,810 per year, representing a 16% increase.
The Ties that Bind: Just as in the last Insuramap survey, several cities find themselves tied for the coveted 10th position. Schomberg, King City, Stouffville, Aurora, and Nobleton all share an estimated premium of $1,801.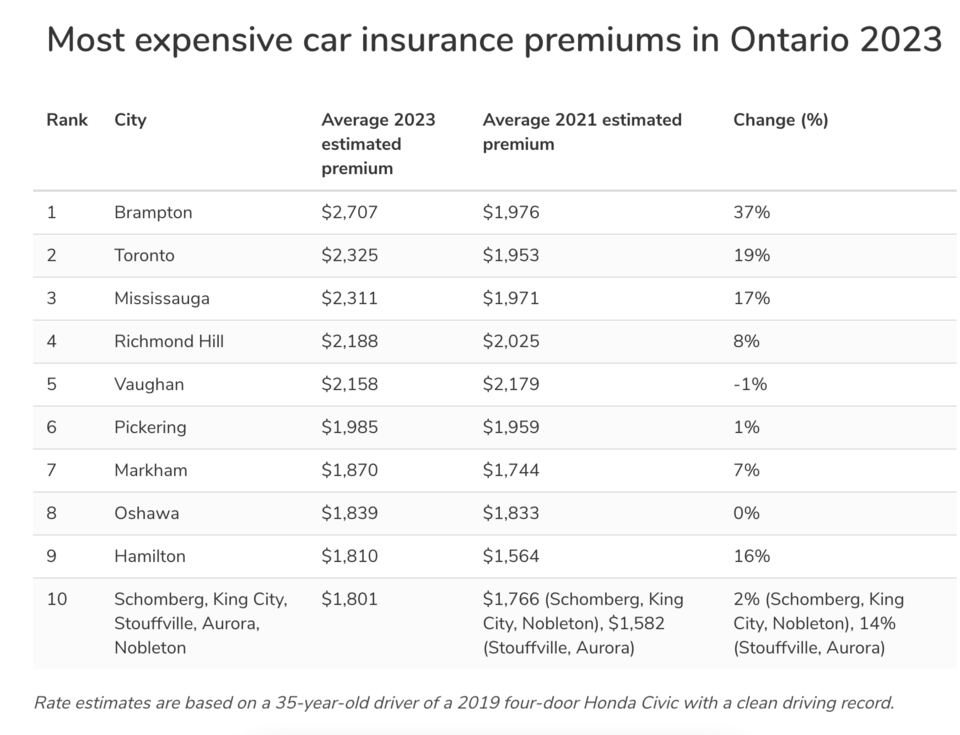 According to the report, rapidly rising inflation has led to several Ontario insurers requesting permission to increase rates. Rate change requests to the Financial Services Regulatory Authority (FSRA) began trickling in late last year, with some being significant. As of publication time, 22 insurance providers had received approval to increase their rates since the start of the year, with the average change per insurer standing at 6.5%.
The data collected by Ratesdotca is based on sample quotes for a 35-year-old male driver of a sedan, with no claims or driving convictions. The report clarifies that factors such as your age or the type of vehicle you drive can have an affect on the cost.
Moreover, the vehicle you choose to drive also plays a significant role in determining your insurance costs. Higher-end models requiring specialized parts and labour are likely to incur more substantial insurance expenses compared to popular models with basic features and readily available parts.
In an ever-evolving landscape, it's crucial to understand these nuances to make informed decisions and navigate Ontario's evolving auto insurance market.