Mother's Day is just around the corner, and what better way to show your appreciation than by treating the special women in your life to a delicious breakfast in bed?
If you're looking to get creative and step up your pancake game, we recommend giving this tasty and delicious carrot cake almond pancake recipe a try.
Created by Emily Richards, author of Get in the Kitchen and Cook, for the Almond Board of California, this recipe is made with nutritious almonds, a sprinkle of cinnamon, and topped off with a mouthwatering cream cheese fruit sauce.
Not only is this dish a tasty way to start the day, but it's sure to make your mom feel loved and appreciated all in one bite.
Carrot Cake Almond Pancakes Recipe
Prep time: 10 minutes
Cook time: 20 minutes
Makes: 16 pancakes
Ingredients:
Pancakes:
1 1/2 cups (375 ml) whole wheat flour
1/2 cup (125 ml) ground almonds
2 tbsp (30 ml) granulated sugar
1 tbsp (15 ml) baking powder
1 tsp (5 ml) ground cinnamon
Pinch fresh ground nutmeg
1 2/3 cups (400 ml) vanilla almond milk
1 egg
2 tbsp (30 ml) canola oil
1 cup (250 ml) grated carrots
1/4 cup (60 ml) golden raisins
Cream Cheese Yogurt Drizzle:
1/4 cup (60 ml) 0% Greek yogurt
2 tbsp (30 ml) light cream cheese, softened
4 tbsp (60 ml) vanilla almond milk
1/2 cup (125 ml) diced fresh strawberries
2 cups (500 ml) quartered fresh strawberries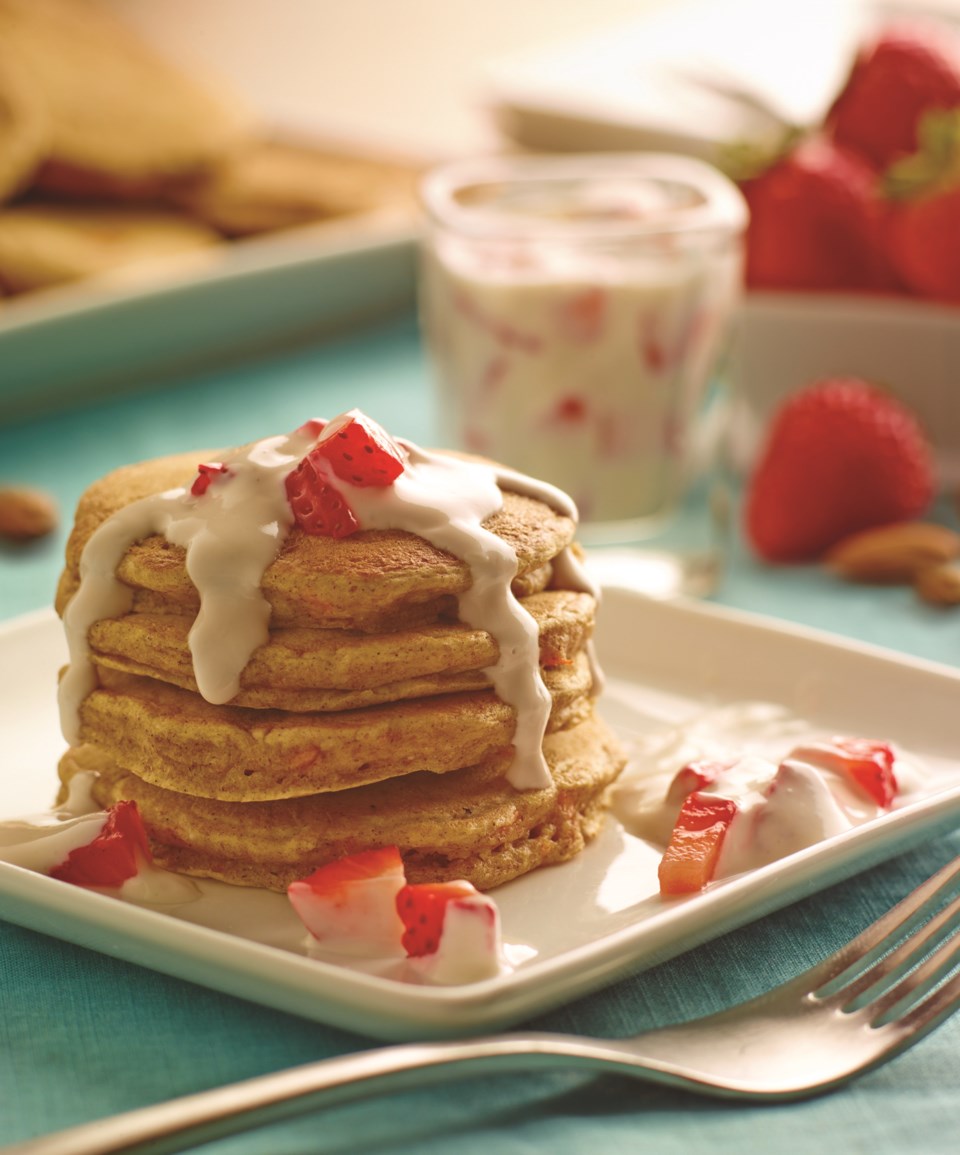 Directions:
Pancakes:
In a large bowl, whisk together whole wheat flour, almonds, sugar, baking powder, cinnamon and nutmeg; set aside.
In another bowl, whisk together almond milk, egg and canola oil. Pour over flour mixture and stir until smooth. Stir in carrots and raisins.
Heat a non-stick griddle or a large non-stick skillet over medium heat. Ladle 1/4 cup (60 mL) of the batter onto griddle. Cook for about 2 minutes or until bubbles appear on top. Using spatula, flip pancake and cook another 1 minute or until golden. Repeat with remaining batter. (Alternatively, use 1/8 cup (30 mL) measure to make smaller pancakes.)
Cream Cheese Yogurt Drizzle:
Meanwhile, in a bowl, using an electric hand mixer, beat together yogurt, cream cheese and almond milk until smooth and runny. Stir in strawberries.
Spoon drizzle over pancakes and top with berries.
These carrot cake almond pancakes are a delicious and creative way to show your mom just how much you appreciate her -- not only on Mother's Day, but every day.