The demand for plant-based foods continues to grow in Canada. This is no surprise given the numerous benefits of including more plant-based items in our diets.
From concerns about animal welfare and sustainability to personal health and cost-savings, Canadians are embracing the plant-based movement wholeheartedly. In fact, a recent poll conducted by Leger Research found that 67% of Canadians consume plant-based foods frequently. Clearly, plant-based eating is not just a passing trend but a firmly rooted movement that is here to stay.
In response to these changing consumer preferences, major restaurants, retailers and foodservice operations are actively adapting their food and beverage offerings to include more delicious plant-based items. You have likely seen the inspired options on menus and store shelves – like shawarma made from shiitake mushrooms, pulled jackfruit sandwiches, and rows upon rows of delectable dairy-free ice creams. In fact, many cafes are now defaulting to oat milk instead of dairy milk, while some universities are pledging to make 50% of their dining options plant-based.
To give you a taste of the delicious possibilities of plant-based cuisine, we recommend trying this delicious recipe for strawberry bruschetta. This delightful combination of sweet and savoury features fresh strawberries and basil, a creamy almond-based ricotta and tangy balsamic glaze. It is just one example of the creative, crave-worthy, and colourful dishes that can easily come together with 100% plant-based ingredients.
Strawberry Bruschetta Recipe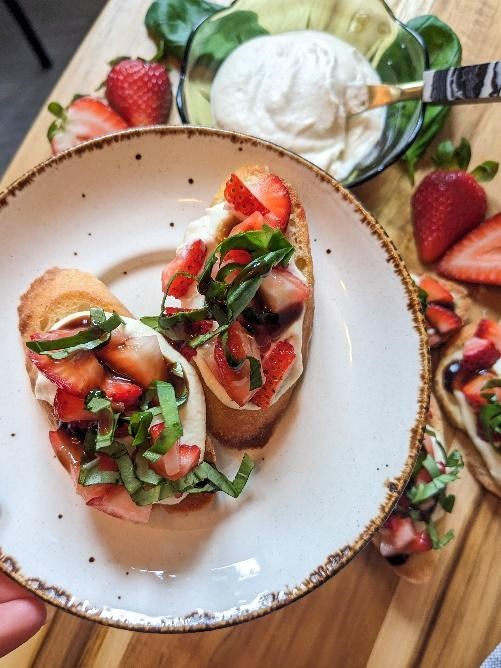 Ingredients:
Almond ricotta:
Almonds, slivered or blanched – 2 cups
Nutritional yeast – 3 tsp
Lemon juice – 2 tbsp
Salt – 1 tsp
Water – ¾ cup
Bruschetta:
Baguette slices – 12 individual
Olive oil – ¼ cup
Strawberries, chopped – 2 cups
Basil, fresh – 2 tbsp
Balsamic glaze – 2 tbsp
Preparation:
Almond Ricotta
Place all the ingredients into a high-speed blender and blend until thick and creamy.
If necessary, add more water or almonds, 1 tbsp at a time, to achieve desired consistency.
Season to taste.
Bruschetta
Place baguette slices on a parchment-lined baking sheet. Drizzle olive oil over baguette slices and bake at 350˚F until the bread is nicely toasted (approximately 10 minutes).
Spread each baguette slice generously with almond ricotta then top with strawberries.
Garnish with basil and balsamic glaze.
Enjoy!
About The Author:
Makayla Dewit is the Forward Food program specialist at Humane Society International/Canada, which helps institutions and businesses across Canada increase their offerings of delicious and nutritious plant-based options that are better for animals, the environment, and human health.
Whether you are a food lover, a chef, a restaurant owner, a foodservice operator or simply someone curious about plant-based options, HSI/Canada wants to support you on your journey to bring plant-based food forward. Visit the Forward Food website to learn more about the benefits of plant-based foods and gain access to a wealth of free resources, such as our packet of nearly 200 plant-based recipes. It's time to savour the flavours, enjoy the health benefits, and contribute to a more ethical and sustainable future—one tasty plant-based meal at a time.